Through projected sequences of colour and black & white 35mm slides over two screens, The lost photographs of Alfred H shows a young girl creating a trail through the streets of Berlin by dropping a series of small photographs on the ground as she walks around the city.
This enactment draws on a motif in the fairy tale 'Hansel & Gretel' as told by the Brothers Grimm, where Hansel drops a trail of  bread to find his way back  home following his abandonment with his sister Gretel in the archetypal dark forest of European folklore. This motif also formed the basis of McCrea's earlier works Sequences, Scenarios & Locations, Parts I & II, also shown with this work at the 51st Venice Biennale 2005
The photographs were acquired at a Berlin flea market, where collections of family photographs are often sold, usually as a result of apartment clearances. The collection of over 300 black and white photographs documents a middle class Berlin family through the twentieth century: from the 1920s to the 1960s. The central identifiable character is Alfred H., who is pictured at various stages of his life from young to old man in the 1960s. The photographs picture various members of the family, outings and foreign holidays, the collection also transverses the traumatic periods of the twentieth century,  of National Socialism and the Second World War. (In one image, Alfred H. in dapper suit and hat poses for the camera on a park bench, an arms casually resting on the bench  on which a portion of the inscription "Nicht  für Juden" is visible. )
The Lost photographs of Alfred H is also an elegy for the photograph as material object, of a thing that can be lost, found and re-circulated and lost again. Many of the images in the work as made using the now discontinued Agfa 'Scala ' film, a unique black & white reversal (slide) film. Since this work was first made the technology of 35mm slide projection is also near complete obsolescence.
For Sinop, McCrea intends to produce a Turkish language soundtrack for this work. Until now the photographic sequences have been without sound or commentary. On this occasion McCrea will produce a soundtrack in the Turkish language involving recorded readings of the Hansel & Gretel folktale, interspersed with a commentary on the images narrated in Turkish by local young people.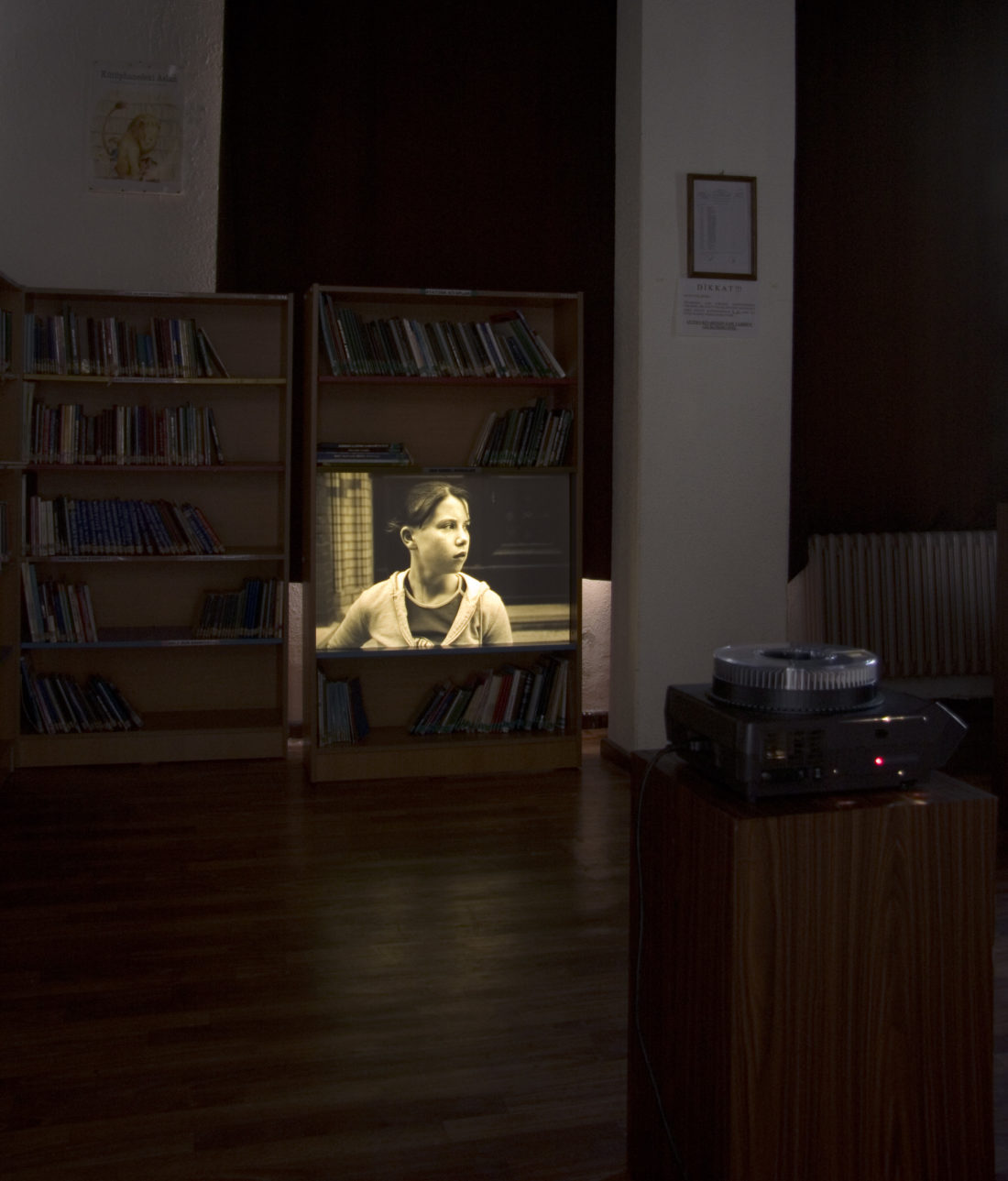 Installation at Sinopale 3, Sinop Turkey